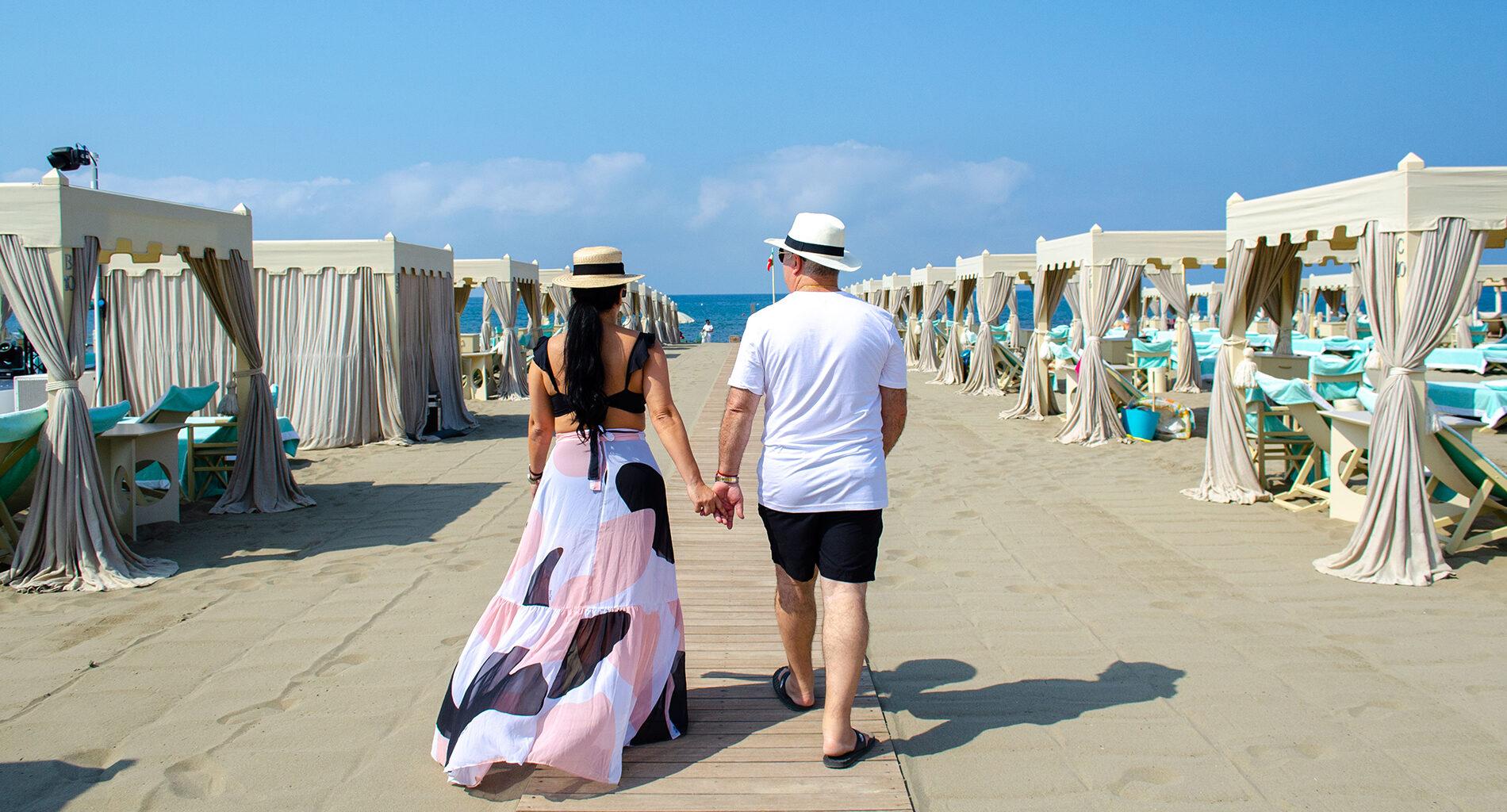 Luxury Beach Day Tour in Tuscany

– Overview
Duration
Itinerary
Departure from your accommodation in Tuscany to Forte dei Marmi
Arrival and relax at Alpemare Beach Club with private beach tent
Seafood lunch at Alpemare Restaurant
Relaxing experience with new technology Sound 6D Pillows
Exclusive Lajatica Bocelli cosmetics treatment
Departure from Forte dei Marmi to your accommodation in Tuscany
Luxury Beach Day Tour in Tuscany – Activities
During the Bocelli Luxury Beach & Sound one-day tour, you will be chauffeured from your pick-up location to Forte dei Marmi where you will spend a relaxing day at Alpemare Beach Club. You will be provided with a private tent on the beach, and you will spend the first hours of your day sunbathing, swimming or just relaxing. Afterwards you will participate in a delectable Tuscan seafood lunch paired with the Bocelli family finest wines. The afternoon will be dedicated to relaxation and beauty care. In fact, you will have the chance to indulge yourself with a unique sensorial experience while being pampered with Lajatica Bocelli Cosmetics products.
From your Accommodation to Sunny Forte dei Marmi
Your journey to a luxury beach in Tuscany begins from your Tuscan accommodation, where your private English-speaking driver will pick you up to chauffeur you to Forte dei Marmi. Take advantage of the journey by car to look around and see where the sea and the mountains gently meet in this part of Tuscany called Versilia.
Relax on the Beach at Alpemare Beach Club
Upon arriving in Forte dei Marmi, among the most exclusive vacation destinations in Italy, you will be graciously greeted by the staff of the luxurious Alpemare Beach Club run by the Bocelli family. A concierge will attend check-in procedures and escort you to your private tent on the beach, equipped with all the necessary amenities for a pleasant stay. Take a dip in the sea, relax and let the warm Tuscan sun tan your skin!
Tuscan Seafood Lunch Paired with Bocelli Family Wines
The time has come to gratify your senses of taste and smell! The Alpemare Beach Club staff will delight you with an exquisite Tuscan seafood lunch accompanied by the wines produced by the Bocelli family. You will surely love this moment dedicated to Italian cuisine!
Sound 6D Pillow Relaxing Experience and Lajatica Cosmetics Treatment
Is there anything better than a little relaxation after a great meal? At Alpemare Beach Club you will have the ultimate sensory experience with a very special pillow! Thanks to Sound 6D technology, all you have to do is lie down and rest your head on this new technological pillow: you will soon escape from reality and find yourself in a dimension of total relaxation. Music has beneficial effects on our body and brain, thanks to these pillows with built-in speakers you will feel embraced by calming music and the relief you will experience will leave you speechless. But there is more! Apart from music, you will be pampered by natural lotion treatments too. In fact, the Bocelli family owns a company called Lajatica that produces natural cosmetics using pomace, which is leftover from the winemaking process in the vineyard.
Transfer to your Drop-off Location
Although it will be difficult to leave Forte dei Marmi and Bocelli's Beach Club atmosphere, your private English-speaking driver will chauffeur you back to your accommodation in Tuscany. But one thing is for sure: you will be very relaxed after this experience at Alpemare luxury beach in Tuscany!